Heger - Your Honeymoon Headquarters
Heger Travel Bureau specializes in creating the perfect Honeymoon getaway tailored specifically to your needs and desires. Tell us where you want to go, and we'll get it done! No idea where to go? We have many...just ask!
As experienced professionals, we will go out of our way to make your Honeymoon as memorable as the wedding.
Our exclusive Honeymoon Registry is specifically designed with the bride and groom in mind.
Let us arrange your trip, and we'll post it on the registry for all your friends and family to see the exotic (or non-exotic) location you've chosen. Your friends and family will know where you'll be, and how long you'll be gone.
Choose your dream Honeymoon, and we'll get you there.
Katie & Don Scofield
Katie and Don recently returned from their honeymoon arranged by Heger Travel in Punta Cana, Dominican Republic - All Inclusive Resort.
"Hi Barbara,
Just wanted to follow up with you and let you know how our trip went!
First and foremost, I just want to thank you for all of your time and effort that you provided to us throughout all of the craziness of planning our honeymoon! I told Dan many times, "Thank God for Barbara". We really couldn't have been happier with your service.
This was truly a fantastic vacation and it was great to be able to get away, unwind, and not have to worry about a thing for the full week. Thank you again for all of your help and we hope to work with you again soon!"
Katie & Dan Scofield
Robert Young & Carolyn Sotos
March 20, 2021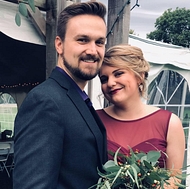 Robert and Carolyn experienced the Honeymoon of a lifetime in Hawaii. Hilton Hawaiian Village in Honolulu, Marriott Maui Wailea Beach on Maui, and Grand Hyatt Kauai Resort & Spa on Kauai were on the itinerary.
Thanks to everyone's generous contributions, they enjoyed a Luau and Dinner Cruise.
Mike and Rachel
Mike and Rachel recently returned from their Honeymoon at Hard Rock in Punta Cana. They thank Barbara at Heger Travel for arranging such a memorable time and they would like to share a couple of photos from their stay:
Click on Image to Enlarge:
Matthew and Corrie
Congratulations to Matthew and Corrie who spent their Honeymoon at Couples Swept Away in Negril, Jamaica.
The couple registered with Heger Travel's Honeymoon Headquarters on their Bridal Registry. Call 708-863-3681, email barbarahgr@aol.com or Contact Us for more information on how to set up your own Honeymoon Trip Registry.
Edwin Rivadeneira and Jenny Mendez
Congratulations to Edwin Rivadeneira and Jennette Mendez who spent their Honeymoon at the beautiful Iberostar Grand Paraiso in the Riviera Maya following their wedding in September, 2012.
Call 708-863-3681, email barbarahgr@aol.com or Contact Us to find out how you can participate using our registry for your honeymoon fund.
Michael & Amy
Welcome back Michael & Amy from Sandals St Lucia Regency LaToc!
They said "I just wanted to let you know that our honeymoon to St Lucia was AMAZING. We had a great time and wonderful weather. Thanks for helping us plan an awesome honeymoon!"
Click on Image to Enlarge: