About Heger Travel Bureau
Heger Travel Bureau, managed by owner Barbara Atwater, has been serving Chicago area travelers for over 50 years. Having literally "traveled all over the world", Barbara is well acquainted with every continent and travel method, from elephants (yes, elephants in Thailand) to cruise ships, both by ocean and river.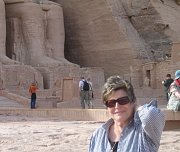 Heger Travel Bureau has a staff of fully seasoned and experienced travel agents waiting to arrange your travel needs.
Barbara and her staff are fully licensed and IATA and ARC approved, as well as active members of Travel Leaders Network.
Call us at (708) 863-3681 to discover the newest and exciting travel packages that become available every week.